News Releases & Statements
Partnership for Medicaid Applauds Bipartisan Approach to Investing in Medicaid in Congress' Year-End Omnibus Spending Package (December 23, 2022)
Partnership for Medicaid Supports Medicaid Mental Health Provisions in the Bipartisan Safer Communities Act to Address the Nation's Mental Health Crisis (June 24, 2022)
Partnership for Medicaid Celebrates National Minority Health Month this April and Continues Work on Promoting Health Equity in Medicaid (April 28, 2021)
Partnership for Medicaid Calls for Short- and Long-Term Solutions to Medicaid Financing Challenges in the U.S. Territories (June 21, 2019)
Partnership for Medicaid Calls on Congress to Preserve Disproportionate Share Payments to Safety-Net Hospitals (May 13, 2019)
Partnership for Medicaid Endorses the Stabilize Medicaid and CHIP Coverage Act (April 23, 2019)
Partnership for Medicaid Applauds Reintroduction of Excellence in Mental Health and Addiction Treatment Expansion Act (March 21, 2019)
Events Archive
Medicaid Myths: Debunking Common Misconceptions of the Medicaid Program
July 9, 2019, Washington, D.C.
The Partnership's Capitol Hill briefing debunked common myths surrounding the Medicaid program, including the idea that Medicaid enrollees don't work, Medicaid enrollees are only low-income adults, and the idea that it's better to be uninsured than be on Medicaid. Speakers included Olanrewaju Falusi, MD, FAAP, Pediatrician, Children's National Health System; Sara Rosenbaum, JD, Health Law and Policy Professor, Milken Institute School of Public Health, George Washington University; Desmond Williams, client advocate, Health Care for the Homeless; and moderator Shannon Attanasio, Vice President, Government Relations and Advocacy, Medicaid Health Plans of America.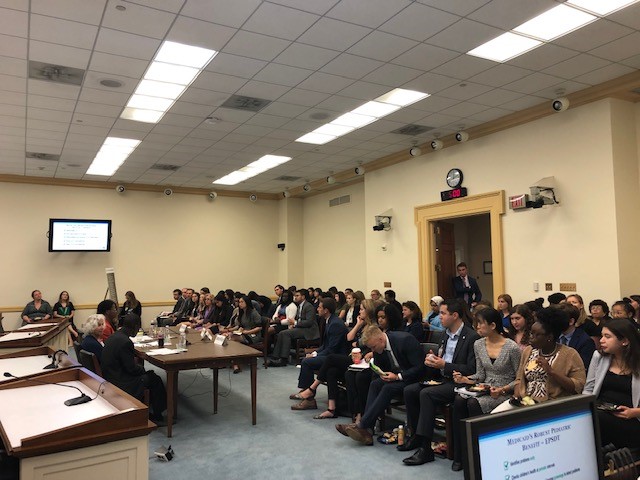 ---
Medicaid's Role in Addressing Substance Use Disorders Through Innovative Care Pathways
Dec. 12, 2017, Washington, D.C.
---
Medicaid's Next 50 Years: Perspectives from the Field
Sept. 28, 2015,  Washington, D.C.
The Partnership's annual Capitol Hill briefing demonstrated how Medicaid has evolved since its enactment in 1965 to better meet the health care needs of the most vulnerable Americans, including low-income children and adults, pregnant women, older adults and people with disabilities in need of long-term services and supports (LTSS), and foster care children.
Speakers included Thomas M. Gellhaus, MD, FACOG, President-Elect, American Congress of Obstetricians and Gynecologists; Guillermo Gonzalez, Director of Government Affairs, Gold Coast Health Plan; Reginald Hartsfield, President, Advantage Management Group; Jeff Richardson, MBA, LCSW-C, Executive Director, Mosaic Community Services; and moderator Bruce Siegel, MD, MPH, President and CEO, America's Essential Hospitals
---
Quality Reporting in Medicaid: Stakeholder Roundtable Discussion
Sept. 11, 2014
The Partnership hosted a roundtable discussion with 70 stakeholders in Washington, DC. The discussion focused on The Next Step: Improving Health Care Quality and Reducing Costs in the Medicaid Program, the Partnership's proposal for a comprehensive, standardized Medicaid quality measurement and reporting program. Partnership leaders shared background about the proposal and engaged in a rich discussion regarding the need for this framework. Participants discussed the relative costs and benefits of the proposal, the value of comprehensive reporting for academic research, and various options for executing the proposal.
---
Oregon: Experiment to Experience
March 14, 2014
This briefing offered rare, first-hand insight into the Medicaid reforms in Oregon to date, with presentations from state policy leaders, researchers, and Oregon Health Plan beneficiaries.
Speakers included Heidi Allen, MSW, PhD, professor, Columbia University School of Social Work; co-investigator on the Oregon Health Study; Kay Dickerson, Oregon Medicaid beneficiary; Judy Mohr Peterson, PhD, Director, Medicaid Assistance Programs, Oregon Health Authority; and Bruce Siegel, MD, MPH, President and CEO, America's Essential Hospitals